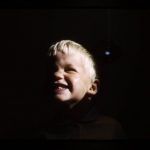 How can I describe Lee? My favorite photo speaks volumes of who he is and the joy he has brought to us. No birthing horrors with this one. Told the doctor I wanted to be awake for his birth, but first thing you know, there's the doc by my bed, saying, "You have a boy!" Oh, well…
Lee's talents are multiple. Always a tinkerer, he vacated his room leaving a shag rug full of screws and other flotsam. Took years to vacuum them up. He can fix cars, build cabinets, operate heavy machinery, repair same, and is the logical heir to our tree farm. His magnum opus, however, is the timber-frame house he and his boys built from scratch. First you cut a pine tree, then drag it to the portable sawmill, do the joinery, put the pieces together, and call in the neighbors to help raise the frame. No nails; just pegs. It's not totally finished, but they live off the electric grid, with solar power and a masonry stove that keeps them toasty. And the architectural beauty of the house is on display for all to see.

Lee graduated from Wheaton College, got a Master's in hydrogeology and worked at ground-water cleanup until those jobs dried up (pardon the pun). He is currently installing solar systems, having learned the ins and outs from his own setup.
He, too, is a man of God
—learning, thinking, growing, teaching. He and his wife Heidi pursued their dream of living off the land, homeschooling their four children, and being a significant witness in their community.
Lee has been a strong oak for me to lean against.
I badly wanted to celebrate our 50 years as tree farmers, and last fall he helped make it happen. Couldn't a done it without him! Bless you, my son, and may the Lord continue to use you—in your family, in your church, in your community.
God knows my children.
He says in Isaiah 49:18, " 'Lift up your eyes and look around; all your children gather and come to you. As surely as I live,' declares the Lord, 'you will wear them all as ornaments; you will put them on, like a bride.' "
I am richly ornamented.