An Unpresentable Glory
Hot off the press: Another exciting page-turner!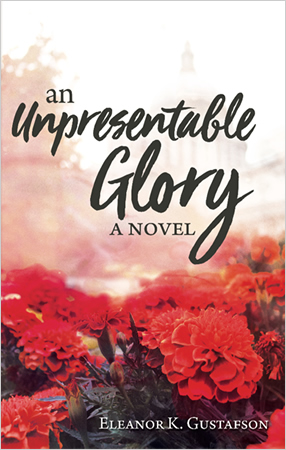 An Unpresentable Glory
My New Book—What's the story about?
"I trusted you, and some day, you may know just how much you hold in your hands."
Linda Jensen finds a sick stranger in her renowned garden. He can drink water, but inevitably, water IN leads to water OUT. Linda tends to his need, but her caring act becomes hugely significant when the stranger's identity is revealed and the awkward incident hits the headlines.
Seeds of trust, and perhaps love, are planted in Linda's garden haven. But as secrets are revealed and scandal hits the headlines, circumstances threaten to choke out the fledgling relationship, and small moments prove to be the biggest influencers—on a national scale.
Who Published This Novel?
I had a book-selling event coming up in July, and Ambassador International (http://ambassador-international.com/ ) went to great lengths to get my book out in time for a major selling event in July. Editor Katie worked with me till we finally got it right, and Creative Hannah got it looking really nice! Don't you just love the cover? COO Anna held my hand through the entire process.
Gustafson's literary treatment of a theme of redemption and restoration is set in a literal garden of delights. It is both a parable and a provocative contemporary story, crafted by a writer who is skilled, precise, and imaginative in her use of words.
God's grace and providence govern every episode of this tale of searching and sacrifice that will leave the reader's soul enriched.
A story our weary world desperately needs. . . An intense and personal exploration of one woman's journey of faith and the struggle to follow God's leading in this modern world of ours.
I'd read only ten percent of An Unpresentable Glory when I told my wife she should put it on top of her to-be-read pile.

What an awesome and lyrical tale!
Eleanor Gustafson is a sensitive and skilled writer who has not only an authentic relationship with the Lord, but a powerful relationship with language.

Wow; just w.o.w. I wish I could give this unparalleled story ten stars. . . . It's the story of two people who cannot fall in love but do, and it's absolutely nothing like the typical romance.
What will YOU say about it?
Por favor—follow up your read with a review, even if you don't like it. I want your honest opinion.
(Yes, you'll find a bit of Spanish, an Indian phrase or two, along with some bits of information that may be new to you.)