Some days are hardly worth getting out of bed. Doesn't have to be anything dire; just the never-ending drip of frustration.
These past two weeks brought a flood of computer glitches that kept me tight with techies. Nail down one thing, another pops up. How do you enable Facebook cookies? Edible cookies I know, but not THAT sort! Finally found a tech who could fix it—but then got hung up on this very blog!
Tech problems, though, are minor, next to the more serious issues of life. Today I'm mourning the death of a friend whose gift of laughter lifted my soul. Others are dealing with debilitating pain, relational ruptures, financial woes. To say nothing of people around the world who fear death simply because they are Christian.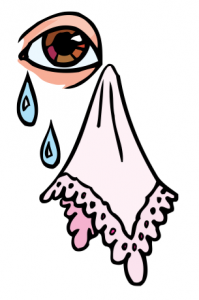 How do we function in the face of ongoing emotional pressure?
I RESORT TO TEARS–A LOT.
Considering that I cry while worshiping God or while reading (OR writing) emotional segments in books, it seems only natural to express frustration through tears. I have a convenient crying rock in the garden, and after watering it a few minutes, I start plugging in folk wisdom:
~Do the next thing.
~Put one foot in front of the other.
~Persevere
~Little by little.
~Inch by inch.
~Piece by piece.
~Keep on truckin'.   



Then this song by Rich Mullins:
Oh God, You are my God
And I will ever praise You
Oh God, You are my God
And I will ever praise You
I will seek You in the morning
And I will learn to walk in Your ways
And step by step, You'll lead me
And I will follow You all of my days
Discouragement, like the poor, we have always with us. But because our Lord knows and loves us and holds our umbrellas, we do not despair.
I WILL seek You in the morning
And I WILL learn to walk in Your ways
And STEP BY STEP, you'll lead me
And I WILL follow You all of my days

What moments in your life have you needed this step-by-step approach? Doesn't have to be big stuff. It's the little puddles that get you. Let me know. I LOVE hearing your stories!  egus@me.com