A week ago, we returned from Florida—and no, this is not going to be a blow-by-blow account of our trip. I do, however, need to set the scene.
A week at a resort near Orlando—paid for by points—served as a much-needed respite from TooBusyToEvenThinkStraight. What we didn't know or expect was the posh accommodations that our points gave us. We were put into the Signature level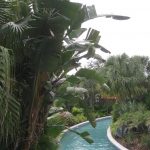 of one of the high-rise units, with poolside view. The "pool" was actually a river, maybe a quarter of a mile in length, that snaked through the village complex of beach chairs, assorted bridges, eating establishments, and tropical landscaping. The view was indeed neat, especially at night when lights shimmered across the water. Signature guests had their own express elevator to the sixth floor, requiring a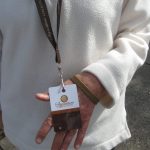 key card—on a strap around our necks—to operate it. A concierge was at our beck and call from 7A to 11P. Our unit was gussied up with expensive-looking furniture and plumbing fixtures, plus full kitchen, including a microwave that could also serve as a convection oven. The king-sized bed, however, made it difficult to kick Jim when he snored.
Now to the point. Included in that view over the village complex was a narrow, secluded strip of padded sunning chairs, sheltered by palms and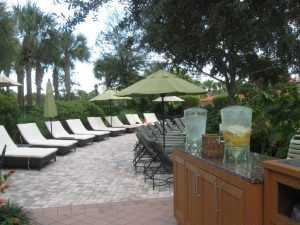 flowering shrubs—an area accessible ONLY to Signature guests by means of our necklaced card key. Not much sun to draw us there, but I found myself going in, all alone, walking up and down the strip, just to breathe the air of privilege.
Privilege. This resort was not my home, not my style of living, but I was welcomed here, made to feel special, allowed where few others could go.
My mind shifted easily from that area of privilege to a Resort where I will find myself equally out of place—scruffy, common—but where I will be welcomed and cared for by One who paid my points and whose signature was written indelibly in blood.
There I will feel fully at home—not through card-carrying privilege, but through love and grace alone.