I LOST MY BROTHER A COUPLE OF WEEKS AGO. Not my biological sibling who died in 1999. This is a different sort of kinship.

When I married Jim Gustafson, his brother John Alfred came with the deal
. To his family he was Al or Alfred. The rest of the world called him John or Dr. John—a man of all seasons, all names. A Marine (Lt. Colonel), a PhD biology professor at Cortland College, local historian, and the metaphorical
pillar of the church.
Can't begin to relate all he did there. One of his great passions came through the founding and development of  Lime Hollow Nature Center in Cortland County. A building named for him brought great joy on his 90
th
birthday.
One of his favorite activities
involved reciting poetry on Robert Frost walks. He'd stop at
stone walls—Something  there is that doesn't like a wall…
two diverging roads—I took the one less traveled by, and that has made all the difference.
snowy woods—The woods are lovely, dark and deep, but I have promises to keep, and miles to go before I sleep.
I always wished I could tuck Alfred in my back pocket
while exploring woods and fields. What bird is that? I'd ask. Or this flower…or fern…or……..
He loved the Lord,
and sibling-couple get-togethers were special times of laughter, shared stories, Bible reading and prayer.
The three sibs
entertained assorted crowds with their childhood dishwashing routine, alternating lines from Lewis Carroll's
"The Walrus and the Carpenter"
:
'The time has come,' the Walrus said,
'To talk of many things:
Of shoes—and ships—and sealing wax—



Of cabbages—and kings—
And why the sea is boiling hot—
And whether pigs have wings.'
We did talk of many things, with brother Alfred planted deep in my heart. My tears have watered this blog . . . . but I can't quite forgive him for up and dying in a matter of hours, in full health at age 91. We fully expected he'd outlive us all!

One day…one day…he'll give lectures on the fruit trees along the River of Life.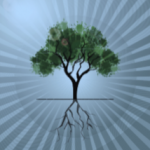 Did you know John Alfred Gustafson? Someday I'll introduce you.  egus@me.com