WHAT WILL JESUS LOOK LIKE WHEN WE GET TO SEE HIM FACE TO FACE?
I read a neat story that illustrates this perfectly.
          William Montague Dyke was blinded in an accident when he was 10. Despite his disability, William graduated from university with high honors, fell in love and became engaged to the daughter of a high-ranking British naval officer.
Before the wedding, William had eye surgery, hoping his sight would be restored. William insisted on keeping the bandages on his face until his wedding day. If the surgery was successful, he wanted the first person he saw to be his bride.



The wedding day arrived. William's father, Sir William Hart Dyke, and the doctor who performed the surgery stood next to the groom, whose eyes were still covered with bandages. The organ trumpeted the wedding march, and the bride walked the aisle.
As she arrived at the altar, the surgeon cut the bandages from William's eyes.
Tension filled the room as the congregation waited for William's reaction. As he stood face-to-face with his bride, his words echoed throughout the cathedral, "You are more beautiful than I ever imagined!"
Neat story, which has probably appeared in many sermons. Unfortunately, it's apocryphal—fake news. There was a real William Montague Dyke, son of the 7th Baronet of Horeham, but he died in infancy.
That story, however—fiction though it is—points toward our first, heaven-side meeting with Jesus, an initial, personal encounter that WILL BE TRUE AND REAL.  We will see that face of love that we all desperately long for. Even people whose hearts are rock hard still long for love—of whatever sort. (Think gangs, destructive attachments, cults.)
For doubters like Thomas, seeing is believing—yes. But for many of us, believing opens the door to seeing.
What does love look like?
More beautiful—more GLORIOUS—than we could ever imagine.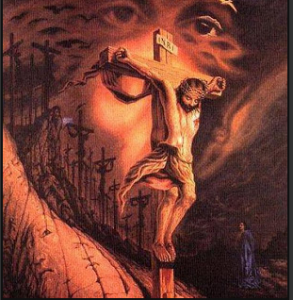 STUDY THIS PIC CAREFULLY. THERE'S MORE HERE THAN YOU THINK. IS THIS WHAT GENUINE, GOD-LOVE LOOKS LIKE? How many images can you spot?
Please tell me about your longing to see Jesus, or what you expect to see in heaven—either in a comment below or on egus@me.com
Loving Jesus More by Phil Ryken is the book from which I borrowed the story—and learned the sad truth about it. I highly recommend it!