As this could well be my last Christmas on this planet, I want it to be
TREETACULAR!
First, a history lesson. Christmas trees, as we know them, have a bad rap. Egyptians, Celts, and Romans had pagan practices with trees and evergreens. Christians of the 16th century borrowed from these traditions, bringing decorated trees into the house. That didn't play well with early church leaders. "PAGAN SYMBOLS!" they thundered. "Christmas is SACRED—don't muck it up!"
Thus, Christmas trees came late to America, given heavy fines for hanging decorations. German and Irish immigrants, though, changed that, and today, our trees are diverse. Here are a few: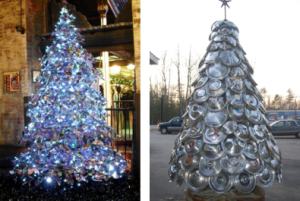 Casettes            Hub Caps
Real Christmas trees (as opposed to artificial) have to die to serve their purpose. They must die before they can be decorated and made glorious.
Must die. Christ died on a "tree"of death, but that death, followed by resurrection, brought life and beauty to all who link up with Him. Our stark reality remains a 100% human death rate. I'm going to die; you're going to die. But will beauty come out of my death? Your death?
Like the extraordinary trees pictured above, you can dress a manikin elegantly, but a manikin is nothing more than shaped cardboard. I want something better. I'm certain my death will bring me to heavenly splendor. My risen Lord will clothe me with His garment of love. Because I have known Him as my Savior and Lord, He will know and welcome me as His beloved child.
Jim and I no longer do trees, gifts, cards/letters, or decorations. Instead, we worship. With Jim's Swedish, 6 AM Julotta background, going to church on Christmas Day has always been a given. And this year, Christmas comes on SUNDAY! Worshiping, remembering odd, though powerful carols like Good King Wenceslas. (Click this link when done reading.) https://www.poetryfoundation.org/poems/57832/good-king-wenceslas 
My favorite of all carols:
"On this day, earth shall ring with the song children sing to the Lord, Christ our King, born on earth to save us; Him the Father gave us. Ideo-o-o, gloria in excelsis Deo!" (Latin: THEREFORE, Glory to God.)
Y

EA

AND

A

MEN FOR

C

HRISTMAS

!