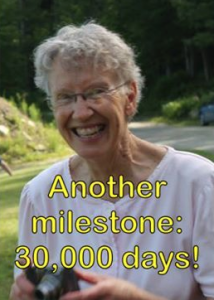 My son called me early Tuesday morning to be the first to wish me a Happy 30,000th-day Birth Day. Funny—nobody ever wished me a 10,000th or 20,000th birthday. How old would I have been on those days? My calculator tells me the first would make me roughly 27 years old, and the second around 55. Do the math to figure my current age.
What was I doing on that Important Day at age 27? That would have been 1961, and I was getting the hang of pastor-wifery. Part of my job description included choir directing and helping with the youth group. We had also started our annual two-week stint at Camp Fireside in Barrington NH. Our first summer there, I was great with child #3—the son who applauded my 30,000th. He came forth around 6 AM the morning after a choir rehearsal.
So in 1961, I was also honing my mothering skills. It's not till you reach your 20,000th birthday that you finally have learned all you need to know on that score, and by then it's too late. God was gracious with our kids, though. Despite our errors and stupidity, they turned into super people.
1989-20,000th birthday. I was well into writing at that point and had two novels under my wing. The kids were grown and married, and grands were coming along. I loved reading to them and watching their dramatic productions in our cellar playroom. Precious days with those little ones. Now, in 2016, we are sadly dealing with the dresses, hats, and toys that still people that haunting space, but child #2 is putting starch in my backbone. Psalm 90 says in part:
Our days may come to seventy years,
    or eighty, if our strength endures. . . .
Teach us to number our days,
    that we may gain a heart of wisdom.
My days have numbered well. Son #3 has counted them. I will rejoice in every day and in each of my three children—Eric, Rachel, and Lee.


How many days have you numbered? Lee gave me a good link:       http://howmanydaysoldami.com 
I love hearing your stories, either in a Comment below or email  egus@me.com
We march forward, day by day, to a sure and certain future!