WHERE HAVE I BEEN FOR OVER A MONTH? All over the place: Up and down the East coast, in and out of multiple homes of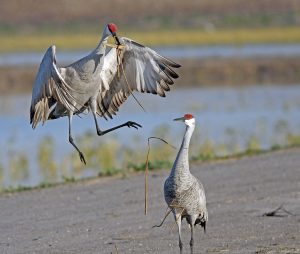 friends and relatives, attending four different churches. and TEN WHOLE NIGHTS at Orange Lake Resort in Kissimmee FL. The nights were great; the days tended to be busy-noisy and full of very little to do. Multiple sandhill cranes provided a bit of entertainment, especially with their courtship dance.
Why did we go? Warm is a good incentive—temps in the 80s down there, warm enough to pull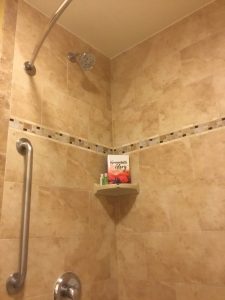 alligators onto the banks. I took a lot of photos, especially of my "Traveling Book." How about this at our classy resort? An Unpresentable Glory, hanging out with shampoo and conditioner!
I also spent a fair amount of time trying to get a handle on a 2-week Blog Tour, scheduled from March 23 to April 5. Well, what is THAT? And how was I supposed to prep for it? Task #1—send out 13 books to the bloggers. Hmm. All my
copies were in Massachusetts; I was in Florida. My favorite son-in-law, Dale Kuehne—bless him— picked up copies, took them home to envelope, address, and mail. I give thanks for him DAILY.
Now, where do YOU come in? Each of the 14 days, a different blogger will tell you what she thinks of my novel. You can access the site right now, through this link, though my tour won't become active till March 23.  http://www.celebratelit.com/unpresentableglory/   Practice run only. Scroll down to this banner and note the dates–March 23 through April 5.

It's asking a lot of you to go on the tour site every day, but if you happen to be at a resort with not much to do, you could read the reviews and add a comment—agreeing or disagreeing with what the blogger has to say. I might even comment back, perhaps even adding a photo or two. But for sure,
I WILL BLESS YOU!
And there IS that Burpee Seed Catalog gift card!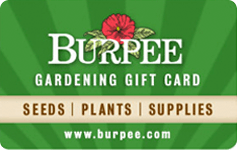 I love interacting with you, either on my blog or via email, egus@me.com     
\\