Fifty years ago we bought 280+- acres of Vermont woodland and became instant Tree Farmers. After all, hadn't we just read a library book on the subject? We bought two bow saws and quickly realized that cutting even one tree with them might consume a lifetime. Note: Tree farmers cut bad trees to make good trees grow fat, producing straight—and valuable—lumber. Then we got into chain saws and eventually a tractor for skidding logs.
Ever hear of an Oliver tractor? We bought one 45 years ago—already antique but affordable. It arrived at noon one day, and next day—at noon—the engine overheated and caught fire. No grumbly, smoky fire this—think flames 20 feet in the air!
Twenty-four hours of ownership left us with a burned hulk and a mountain of disappointment. The five of us went back to camp and had a prayer meeting in our tepee.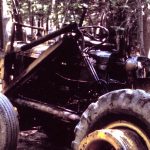 I just read a line from WORLD Magazine by Thomas Boehm: "Those things we most fear losing, God most delights to redeem and restore." Yes. he does. We went on to other tractors and equipment and years later were awarded County Tree Farmers of the Year and later Vermont State Tree Farmers. But more importantly, our kids grew straight and strong through hard work and tepee prayer.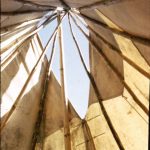 So many stories to tell and pictures to show of how God grew us all. Stay tuned. . . .
Postscript: The Oliver Corporation also produced Cletracs, of which our bulldozer was one. It never ran happily and now, 35 years later, is sinking slowing into the earth. There's a lesson there somewhere. Resurrection, maybe?