Daughter Rachel decreed that we  EMPTY our attic.
NOW.
She set a date and showed up at 8 AM.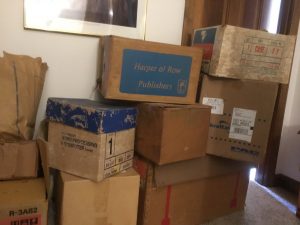 The heavy stuff, requiring strong backs, is still up there. But at least 50 boxes of varying size and shape now grace hallways, bedrooms, living room. The contents of these boxes span the totality of two lives. Rachel's directive: "Look at each piece. Read or admire. Then ask, 'Will anyone care about this after we're gone?' "
In the foreseeable future, our free time will be organized into three piles: Toss, Save, Think About It. And if we don't want these boxes to become our permanent décor, We. Will. Do. It. Our children will then rise up and call us Blessed.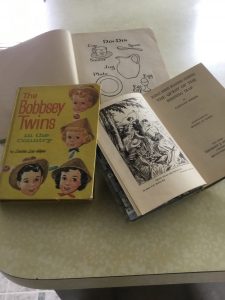 My quick survey uncovered an early reader, portraying everyday eating items under the title, DIN-DIN. Farther along came a high-school project on weaponry in the Middle Ages. Got me an A+. And books—all the way from Bobbsey Twins and Nancy Drew, to horse stories and beyond. Aaaugh! How can we relegate this stuff to the recycle bin? Well, you close your eyes and do it.
Are these boxes the sum substance of my life? No, though I see similarities. Habits and routines that need to be tossed. A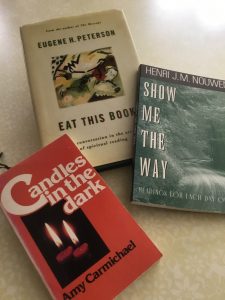 flourishing devotional life that should be saved and expanded. The Real Me that people see and assess. Love, care, encouragement, modeling—these will have value throughout eternity.
Nostalgia can grab your heart. I found an autograph book, dating back to grammar-school days. Among bromides like, "If you get to heaven before I do/Bore a little hole and pull me through," I found my teacher's signature: "In your chain of friendships, regard me as a link." Besides being a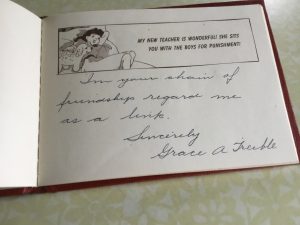 good teacher, Mrs. Treible nudged my spiritual life—just by reading aloud the whole of Psalm 104, with its many references to the natural world.
Will I save this little book? Probably not. But Mrs. Treible is on my list of people to hug in heaven.
What's in your attic, these days? What will you find that's hard to toss?
Please Comment below, or email me, egus@me.com