WE WENT FOR A WALK YESTERDAY. The first day of spring—one of my favorite days of the year. Another favorite is the first day of summer, but a cloud hangs over that one, as the sun starts heading south. The OTHER favorite is the first day of winter because…….the sun heads north at our darkest moment. Am I a sun worshiper? No, but we do celebrate these favorite days with ice cream!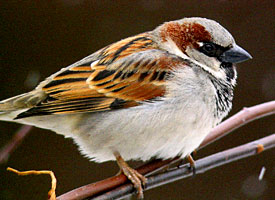 On another walk, we heard and saw a pileated woodpecker. Handsome bird. They hadn't been invented when I was growing up in New Jersey. The only birds we noticed yesterday was a flock of something-or-others that hang out in bushes, cheeping loudly. Probably house finches or house sparrows, formerly called English sparrows. Whatever,  they understand and practice Community.
Eugene Peterson talks about community in the Christian sense. "We are a community. We are not ourselves by ourselves" he says. "We are born into communities, we die in communities. Human beings are not solitary, self-sufficient creatures." Like those sparrows chattering in the bushes, we need each other. 
As Christians, though, our community rises to a a different level. We are to worship together and to love each other deeply. But we're  expected to leave the safe bush and go out to wash dirty feet. The community is there when we come back soiled and weary—a safe place of grace and wholeness.
Easter's coming. The resurrection provides a firm base for belief, for worship, for letting our light shine. Cheep loudly together in church, but then leave the bush and sing life and redemption to a sick and lonely world.l
PS—I'm currently launching my little cheep called Dynamo . My publisher asked me to make an author video, and here's what came out. Not exactly polished, but it's me. As you have opportunity, please share this with  your friends. And buy a book!