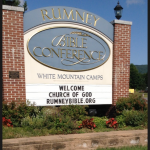 RUMNEY BIBLE CONFERENCE, nestled in the foothills of the New Hampshire White Mountains. Our larger family comes here for our annual Thanksgathering, taking over the 5-story lodge to meet, eat, and be merry. We've had as many as 70-plus at table, and Cousin Tom brings two home-grown, 30-40-pound turkeys. Pies of every sort imaginable, along with Brother Al's plum pudding and supreme sauce. The peasants can eat pie; I feast on plum pudding.
But now it's summer, and Jim has been doing his week-long stint as preacher/teacher for the conference. Thursday was . . . um . . . interesting.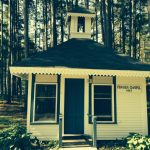 9:00 AM—Group prayer, focused today on praise, rather than the usual long list of people/conference needs.
     9:45 AM—To the Pavilion and Jim's Bible study on the fear of God. (Hold that thought.)
    11:15 AM—An ad-hoc prayer meeting with the finance secretary, overwhelmed by an impossible workload. If staff can't come to the prayer meeting, why not carry the prayer meeting to staff? Next day, Lauran reports a good night's sleep. Thank you, Lord!
    Noon—A pick-up lunch and much-needed nap. Went out for a walk, even with thunder rumbling around the edges. The black clouds seemed safely "over there," but then a sudden streak of lightning and BLAM! Whoo! Close, indeed—struck a tree in the camping area, far TOO close to Pastor Dave's wife Bonnie, who got spattered with bark bits. Remember the morning's Bible study on the fear of God? Moses and the prophets would recognize that bolt of lightning. The fear of God in living color.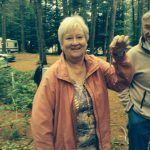 5:30 PM—An elegant dinner at the home of Dave and Aartje, followed by their video presentation on building bridges to Muslims through the Crescent Project. Another close encounter, this time with the heart of God.
      8:00 PM—I walk home in the dark, passing the Tabernacle and 300 Hispanic teenagers praising God with full voice and drums. Glory sifts a soft blanket of blessing over that extraordinary day.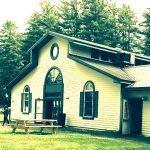 PRAISE GOD for the facets and faces of Rumney Bible Conference! God IS alive and active through prayer, through bolts of lightning, through loud, boisterous music. HALLELUJAH!