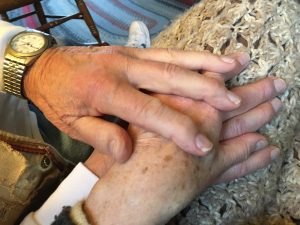 The other day while sitting with Jim, I noticed our interwoven hands, his on top. The symbolism struck me. I'm thankful for my husband of all these years—67 this very day. We've had our moments—sometimes daily—but marriage is a great context for learning and growing.
We've plowed a lot of ground over those 67 years.
A fast start on babies

.

When we married, Jim still had a year of college, so we planned to have our first child during his last year in seminary. People plan; God laughs. By then we'd had two babies and a miscarriage, having flunked birth control 101 and 201.

A  couple we knew in seminary later became

our

third child's in-laws

.


       

           

Pastoring

and the richness of those ten years. Christmas open houses, youth groups, choir, learning to live with humble saints.

   

Camp Fireside

.

We spent two weeks of every summer in Barrington, NH, reaching out to kids through play, adventure, outdoor life, hiking trips—and teaching/living the Word of God. One of us loved it; the other did not. Your guess.

                                                           

 

Tree farming

—a whole 'nuther thing. We worked with the government tree-farm project, improving our 250-acre forest, acre by acre; making maple syrup; producing and selling our first timber crop; warring with mice. We grew as a family in life and work.
 

Music

—

piano and organ, recorders, band instruments, assorted choirs and concerts, and listening to fine music, which served as the fabric of our life.

               

Worship

—

Praising the Lord of Glory, the God of grace; drinking in the redeeming love of our Lord.
Individual activities

:

Jim taught philosophy for 50-odd years at Northern Essex Community College. He now writes poems on Facebook.
I shifted from music to writing—publishing assorted articles, short stories, and six novels. (Check my website for more on those.)

Life in our latter days

:

Strong to weak—cancer (me), memory loss (Jim).
Spiritually immature to being tight-bound to God.
Waiting…waiting…for that call to come

Home

!
Our hands, tightly entwined, are also entwined with God's loving hands—the top and bottom line of it all.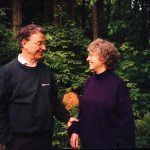 I'd love to hear your stories. Comment below, or email jegust@comcast.net