LONG BEFORE DAVID WAS KING, HE WAS A WARRIOR. A good one. "He trains my hands for battle; my arms can bend a bow of bronze." (Ps. 18:34) David had his Mighty Men—but they didn't give out medals back then.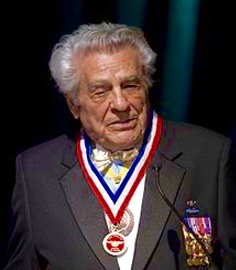 MAGGIE MEGALIAS, a modern Mighty Man, is the most decorated officer in the history of the 82nd Airborne that specializes in parachute assault, and the distinction holds to this day. But through a clerical error, one medal is missing—the Medal of Honor. In five months he'll be 100. Will he get it?
Who IS James "Maggie" Megalias? In the context of World War 2, a genuine hero.
Here are some of his feats:
In the Netherlands, Maggie destroyed a German observation post and machine-gun nest. In the Battle of the Bulge, his platoon was attacked by a large German force. He stood his ground, and in the end, 100 German soldiers were killed and 180 captured. When a German tank came toward them, he charged the tank, lobbed a grenade at the tracks, then climbed aboard and opened the hatch and tossed another grenade. He then led his men into town and went house to house, clearing out the remaining fighters. None of his soldiers were killed or wounded that day.
His driving passion was to eliminate the Nazi monstrosity.
His medals:
Master Parachutist
Combat Infantryman Badge
Distinguished Service Cross
Silver Star
Bronze Star
Purple Heart
Presidential Unit Citation
American Defense Service Medal
American Campaign Medal
European-African-Middle Eastern Campaign Medal
World War II Victory Medal
Army of Occupation Medal
National Defense Service Medal
Vietnam Service Medal
Armed Forces Reserve Medal
Vietnam Campaign Medal
Belgian fourragère
Six campaign stars
Order of St. Maurice
Dallas Military Ball's Meritorious Service Award
Military Order of William Orange  by the Dutch Minister of War in 1945
Quite a list, but he told his company commander that he and his men weren't fighting for medals. They simply stared down Hitler's evil designs—and won the battle. Since the war, he's been urging kids to fight for causes greater than themselves.
THE PRICE FOR FREEDOM IS HIGH, and this month we thank ALL our veterans who sacrificed much for our precious freedom. But never forget David's motto: "THE LORD IS OUR ROCK, OUR FORTRESS, AND OUR DELIVERER." (Ps. 18:2)

If you are a veteran, I thank you and would love to hear your stories. Comment here or email egus@me.com 
And if you haven't already read it, take a look at David's story, The Stones www.amazon.com/Stones-Eleanor-Gustafson/dp/1603740791/ref=sr_1_1?s=books&ie=UTF8&qid=1366735533&sr=1-1&keywords=gustafson+stones