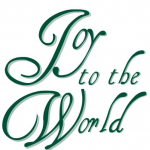 LAST TIME YOU LEARNED how grinchy we've become in celebrating Christmas  (see Part 1 below), but here's what was GOOD about Christmas Past.
•   My first Notable Christmas featured chicken pox. I remember sitting on my mother's lap, totally miserable. At least she didn't consign me to bed, away from the festivities.
I was an insatiable reader as a child, earning my first pair of glasses when only seven or eight. I think my best Christmas in those days netted 20-some books–enough to keep me going a month or so.
•   My mother loved tinkering with tree lights, especially the series type where one blown bulb darkened the entire string. Which bulb was responsible? "Modern" lights took all the fun out of bad-bulb spotting.
On one very special Christmas, a young man pulled into our driveway, drew a small box from his pocket, and put a ring on my finger. What a gift THAT was!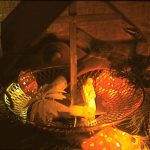 •   During the '60s when Jim was a pastor, we held an open house for the entire church each Christmas. Big-time baking and decorating. I remember a friend stopping by earlier in the day and eying the chaos. "You're…having an open house…tonight??? We did, and the place looked beautiful.
In the early '70s, Jim resigned his pastorate to go into college teaching. We vacated the parsonage and  built a house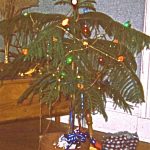 with our own hands. That first Christmas was a sorry business—neither  here nor there, our only tree a sad-looking, potted Norfolk Island pine. We had hope in our eyes, however, for Christmases yet to come.
•   When I eventually announced my decree of NO GIFTS, NO DECORATING, our daughter Rachel drew us—along with assorted friends and relatives—into their family's celebration and feast.
Christmas has now become a joy, the only burden being our yearly Christmas letter. Relationships, though, are our most treasured possession, and we willingly devote time to sustaining friendships that span the world. Jesus Christ came to live among us, drawing us into tight fellowship with him and with the people in our lives.
May your Christmas be intentionally joy-filled with the light and love of our Savior. Come, Lord Jesus! Be our guest.