We have this super-swell Christian school in town. "Bradford Christian Academy exists to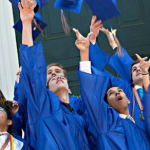 glorify and serve the Lord Jesus Christ by providing excellent college preparatory education that puts God at the center of all reality. BCA values students as precious, unique creations and nurtures their academic, spiritual, and creative lives in a culture governed by grace." (From their website)
A couple of weeks ago, the fruit of that fine school was on display. Twenty seniors. One hundred percent college-level acceptance. Six Summa Cum Laudes. The valedictorian's grade-point average of 4.6 is technically impossible, but Advance Placement and Honors achievement put her over the top. Out of multiple acceptances from top-flight universities, Angela settled on Brandeis so she could major in neuro-.biology Her mother, a Colombian immigrant, had to struggle to keep her in school. Faith, scholarship money and hard work got her through. Angela is a star.
Loren Stevens, BCA Academic Dean, traditionally hands out diplomas as seniors  cross the platform. This year, however, she needed to sit and just speak the names of each senior, grasping hands as they passed by—a service of sheer courage and determination, a horse  having stepped on her, breaking ribs and puncturing a lung. Loren is a star.
The remarks of the commencement speaker, Rev. John Grothjan, were entitled, "Star or Servant?" He noted that the next six months would be the most important time in the graduates' lives, facing them with the serious business of choosing friends, career paths, and worldview. He noted that the world gravitates toward stars—in athletics, music, movies, and social venues. He urged them instead to become servants—of God and of people on every economic level. Too many stars, he said; not enough servants.
Angela left BCA as a star. I have no doubt that God will shape her into a servant.
The star of Loren the servant shone brightly  that Saturday on the platform.
At the close of the ceremony, the faculty recessed first and quickly made their way to the balcony, where they lined the rail and waved their benediction over the surprised graduates marching out.
Star Servants, every one of them.
At least one in the audience was crying over this beautiful juxtaposition of stars and servants.